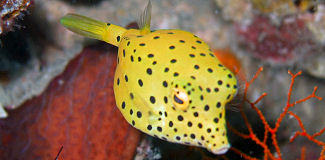 Anemones, Angelfishes, Barracudas, Butterflyfishes, Clownfishes, Corals, Crabs, Damselfishes, Eels, Frogfishes, Flounders, Ghostpipefishes, Groupers, Grunts, Hawkfishes, Jellyfishes, Lobster, Moray eels, Nudibranch, Parrotfishes, Pipefishes, Porcupinefishes, Pufferfishes, Scorpionsfishes, Sea Horses, Sharks, Shrimps, Snapper, Soldierfishes, Sponges, Stingrays, Surgeonfishes, Sweetlips, Triggerfishes, Trunkfishes , Umberfishes, Worms,Wrasses, Whales
Send us Your Pictures!

Do you have any pictures or informations about fishes, corals, nudibranchs, jellyfishs or other marine life? Please send us your pictures to be included in our Reef Guide. We will retain the copyright to you, displaying your name as the photographer and link to your website. Please write a eMail to info@easydive24.de. Thanks a lot!